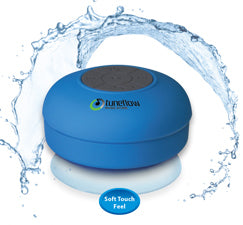 Hints on How to Buy the Right Promotional Products for your Brand
Hints on How to Buy the Right Promotional Products for your Brand
Shopping for promotional products seems like tons of fun until you realize you have no clue what would actually be best for your brand. Should you go with traditional logo pens or personalized tote bags, or is it best to think outside of the norm with edgy or trendy products?
The truth is, there is no right or wrong answer. You have to determine which items would be the best fit for your audience, target price point and quantity needed. You can get a bit more creative with your promotions if you know your recipients' interests and style.
We have an extensive selection of products, but that variety can lead to you being overwhelmed and indecisiveness. Even if you choose a popular giveaway like a water bottle, you still have to find the one that best suits your audience and budget.
1. Selecting an Item: (example) Water bottles: There are hundreds different water bottles, which one's for you? There are Stainless Steel water bottles, plastic sports bottles, acrylic tumblers, and aluminum water bottles. If price is your main concern, BPA free water bottles are most cost effective. Is your budget is larger, than Stainless Steel Water bottle are the best option, coming in single wall insulated (meaning it sweats and doesn't stay cold long), Double Wall insulated (doesn't sweat and stay cold for many hours)
2. Imprint Method for your Logo:  Screen Printing, Digital Printing, Heat Transfer, Laser Engraving, Debossing/Embossing, or Embroidery? This really depends on the product. Some printing processes look better on certain items. Most apparel is screen printed or Embroidery. Paper is Digital Printing, Leather goods look more refined with dedossed, Heat Transfer is normally used when there is a multi colored logo or full color imprint, it help saves costs. All items list their available imprinting methods and normally show picture example for you to see.
3. Most Common Promotional Product: Logo pens are the most commonly-used promo items for a good reason — they're practical, customizable, and generally inexpensive. But which type of pen reflects your brand's image the way it should? Well, you know your company image, style and branding so we can help you find the pen that best suits your image.
4. Brand Impressions from Promotional Products: How many brand impressions can you get from giveaway items like tote bags, glassware, writing instruments, or t-shirts compared to traditional advertising like billboards or radio spots? When you're looking for a cost-effective marketing idea that's going to get your message or product in front of tons of customers, promotional products are a great way to enhance your marketing campaign. There's a product that matches the personality of every brand. Promotional products are a simple, affordable, and practical way to get your name out to prospective customers. According to ASI it's hard to beat promotional products when it comes to cost per brand impression.
5. Product Samples to they Benefit your decisions?: Do you like to hold and examine potential purchases without making a commitment? Consider ordering samples from us to help you decide. Find out how product samples can aid your tough promo advertising decisions.
6. How to successfully Market your Brand: Use promotional items to keep your clients interested, your name in front of them, plus the added bonus to show them appreciation with a great giveaway.. We love useful promotional items, not necessarily a desk item, but practical items. It engages your client in the items you gave them. Example: Water drink pack, your clients hike and are outdoor people – useful item, they engage and reconnect in their minds with your brand.
7. Quality over Quantity: Quality is always important when you're trying to convey your message. A cheaper item might just go right in the trash. Think first before you spend on your customer base and their interests. Less is more!
8. How not to use Promotional Products: Don't give anything that will be harmful to your clients, Do not give really expensive gifts and Don't spread your resources too thin. As we said earlier practical quality items are best.
9. Product Times to get the Items Printed: Many suppliers offer RUSH services to get items printed in 1-3 days but the normal production time is usually 7-10 days. Rule of thumb always give yourself at least 4 weeks to research, choose an item, place order and receive the product
10. Picking the Correct Promotional Product for your Company:  See, choosing promotional products doesn't have to be a tedious experience! Rest assured that you're not the only one who may be confused or frustrated. When you have seemingly unlimited choices, it's not easy to narrow them down. We're here for you whenever you need us, though, so don't hesitate to call us if you need a few product suggestions!